Accurate on-board Data
Accurate on-board data with Xoom by Xlerate. Vehicle vital statistics delivered as data.
Accurate on-board data
Vehicle diagnostic information allows proactive fleet maintenance to increase on-road time
Temperature measurement, doors, headlights, brakes, bin lift arms and other PTOs
Cargo temperature measurement for food industry
Tyre pressure and axle weight measuring if required
A higher level of on-board information
Xoom's ability to sense and record external events is not limited to simple digital and analog inputs. We interface to and provide data from vehicles' on-board systems using a number of standard interfaces, such as CAN bus (J1939 and variants), J1708 (and variants).
Vehicle diagnostics
Diagnostic information and vehicle performance data collected by Xoom allows proactive fleet maintenance, which reduces the risk of breakdowns and increases on-road time.
Cargo temperature monitoring
Xoom provides service providers in the food, distribution and transport industry with technology to continuously track the location, status and temperature of their trailer cargo. You can even monitor different zones of a trailer at the same time. This is a high quality system designed for high grade food processing industry.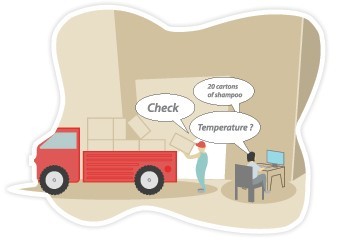 Tyre pressure
Xoom can connect to retrofitted external modules, such as tyre pressure monitoring systems, axle weight measuring systems and RFID readers.
Digital and analog
Digital and analog inputs can include, temperature measurement, doors, headlights, brakes, bin lift arms and other PTOs.
Custom telematics
If you have a custom telematics requirements, talk to us and we can design a solution for you.